Bee Problems?
BEE REMOVAL OF HOUSTON delivers comprehensive bee hive removal no matter where the hive is situated. Since up to 80,000 bees have been known to share one hive, we strongly recommend that you call in our experts to remove the live bees. We have been serving the Southeast Texas area for over 10 Years. A Professional Bee Service that you can count on.
Call a Bee Removal Expert!
Bee removal is something most people have never had to deal with. When they find a honey bee infestation on their property, they usually don't even know where to begin to look. Luckily, you've come to the right place. As bee removal experts, we work fast to assist you with your bee removal problems.
Professional Beekeeper
Call on BEE REMOVAL OF HOUSTON when you need full bee control that includes bee hive removal. We have all the tools necessary to remove bees from holes, cracks, brushes, trees, and even vehicles and places around your home or other buildings. We also service Commercial Buildings and Properties with Bee Removal.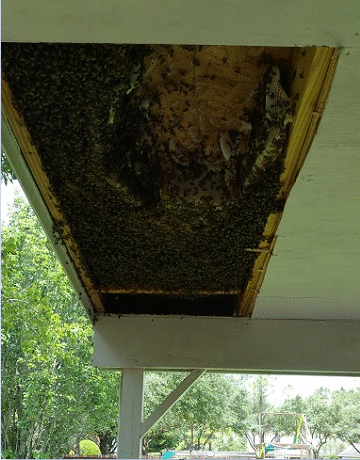 "Recent Bee Removals"